Description
THE SERENITY STOVE RANGE
Overview
Welcome to our latest Serenity range of contemporary multifuel stoves designed and
manufactured in the UK to high levels of quality, featuring both free standing and inset models.
The Serenity range offers contemporary styling giving a crisp clean look to suit the modern home
and a lovely focal point in your living room. Over 30 years of design experience have gone into
creating the Serenity stove range using the latest materials and modern manufacturing
methods to create a high end, high performance stove range that not only looks great with its
sleek and modern black bordered window but also works extremely well.
Description
A robust steel construction ensures that the Serenity is equally happy whether burning wood or
solid smokeless fuel. With primary and secondary air sliders the fire in the stove can be controlled
to give the optimum heat output whilst a built in air wash keeps the glass clean.
All Serenity models feature radiant and convection air heating, injected preheated tertiary air
with the latest in clean burn fire box technology designed to make the fire burn hotter and
brighter which improves efficiency and reduces the CO, better for the environment and better
for your pocket with reduced fuel consumption. Supported by the comfort of a 5 year
guarantee on the body the Serenity is a stove that can be enjoyed, and with its high quality UK
engineering, can be relied on.
In conclusion, the Serenity range evokes the best of British high end styling, design and function
into a quality made contemporary range of multifuel stoves. Sit there, relax, be serene and
enchanted and enjoy the irresistible warmth, glow and pleasure that these stoves will bring whilst
knowing that you are doing your bit for the environment.
The Company
Pevex is an established distributor of fireplaces, European stoves, and a manufacturer of
woodburning and multifuel stoves. We have built an enviable reputation for supplying well made
products at an affordable price.
Our national network of retailers give our customers support and advice when choosing a fire,
and their expert knowledge ensures the correct installation.
Pevex are an innovative company and are continually developing new products
utilising the latest techniques and materials. Our products are built
to meet the current regulations and being mindful of possible
future developments we design accordingly.
Pevex offer a wide range of fires from traditional to ultra
modern all of which are built to the highest levels of quality for
a long and trouble free life.
THE SERENITY STOVE RANGE
PEVEX …….. a name you can trust
2
Overview
Welcome to our latest Serenity range of contemporary multifuel stoves designed and
manufactured in the UK to high levels of quality, featuring both free standing and inset models.
The Serenity range offers contemporary styling giving a crisp clean look to suit the modern home
and a lovely focal point in your living room. Over 30 years of design experience have gone into
creating the Serenity stove range using the latest materials and modern manufacturing
methods to create a high end, high performance stove range that not only looks great with its
sleek and modern black bordered window but also works extremely well.
Description
A robust steel construction ensures that the Serenity is equally happy whether burning wood or
solid smokeless fuel. With primary and secondary air sliders the fire in the stove can be controlled
to give the optimum heat output whilst a built in air wash keeps the glass clean.
All Serenity models feature radiant and convection air heating, injected preheated tertiary air
with the latest in clean burn fire box technology designed to make the fire burn hotter and
brighter which improves efficiency and reduces the CO, better for the environment and better
for your pocket with reduced fuel consumption. Supported by the comfort of a 5 year
guarantee on the body the Serenity is a stove that can be enjoyed, and with its high quality UK
engineering, can be relied on.
In conclusion, the Serenity range evokes the best of British high end styling, design and function
into a quality made contemporary range of multifuel stoves. Sit there, relax, be serene and
enchanted and enjoy the irresistible warmth, glow and pleasure that these stoves will bring whilst
knowing that you are doing your bit for the environment.
The Company
Pevex is an established distributor of fireplaces, European stoves, and a manufacturer of
woodburning and multifuel stoves. We have built an enviable reputation for supplying well made
products at an affordable price.
Our national network of retailers give our customers support and advice when choosing a fire,
and their expert knowledge ensures the correct installation.
Pevex are an innovative company and are continually developing new products
utilising the latest techniques and materials. Our products are built
to meet the current regulations and being mindful of possible
future developments we design accordingly.
Pevex offer a wide range of fires from traditional to ultra
modern all of which are built to the highest levels of quality for
a long and trouble free life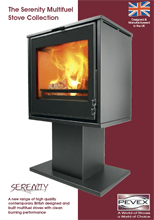 New UK Serenity freestanding and
Inset range brochure (590KB)